The adaptations of Edgar Rice Burroughs' works besides Tarzan have always been sparse. For John Carter, there are comic strips signed by John Coleman Burroughs (1939 to 1941), three issues drawn by Jesse Marsh adapting in accelerated fashion the first three novels (1952-1953), some issues at DC Comics (1972-1976) which will also see some adaptations of Carson of Venus and Pellucidar, as well as adventures featuring Tarzan's son, Korak, then the first Marvel period (1977-1979), and then sporadic apparitions where Tarzan meets John Carter then Carson of Venus (1995-1996). Since 2010, Dynamite Comics is publishing, without having the license, adventures for John Carter, Tarzan and Dejah Thoris, et the least we can say is that they do better work than Marvel, which ruined its adaptations of A Princess of Mars (the only title published in French, and ugly beyond imagination), and of Gods of Mars. Since then, complete silence at Marvel, at a moment when Dynamite, put on trial by ERB inc, keeps on ,developing its brands with great success.
All that to say that, knowing that one is better served by himself, ERB inc took upon itself to publish its own comic adaptations, online on their website, watchable via a 1,99$ fee per month. The titles are evidently very faithful to Burroughs' books, et sometimes feature seldom known titles from the old master:
http://www.edgarriceburroughs.com/comics/
- First place for the Lord himself, Tarzan was the first to go, in a new adventure signed by the prolific Roy Thomas (a true legend, and the best Conan adaptator at Marvel) and Thomas Grindberg. The strip is more or less in slumber, new pages have a hard time arriving.
- Carson of Venus was the second, signed by Martin Powell at the story, and Tom Floyd and Dana Leto drawing. 30 pages have already adapted the whole of Pirates of Venus, and Lost on Venus has just begun. Let's remind that the DC Comics adaptation had stopped on the first tier of Lost on Venus, the strip will thus not be long to go beyond that point!
- Pellucidar started twice, with Chuck Dixon writing the story, illustrated first by Tom Lyle, before Gary Kwapisz began anew after 5 weeks. The story is apparently original, and is not the adaptation of a novel.
- The Eternal Savage is the story of a prehistoric man, Nu, and of his mate, Nat-Ul, seemingly reincarnated in Victoria Custer. With back-and-forth narration between the "modern" era and prehistoric ages, with Tarzan and Jane as guest stars, here is a mysterious and touching story. By Martin Powell and Steven E. Gordon.
- The War Chief tells the story of Shoz-Dijiji, white child raised among American Indians, who will end up being a close relative of Géronimo himself. The story is once more adapted by Martin Powell, and the drawings of Nik Poliwko are among the most beautiful in a classical way I have seen for a long time. Definitely the most impressive strip visually!
- The Cave Girl : the strip is particularly surprising and charming, because it's treated on a comical mode! I haven't read the original novel yet, but the choice is both astonishing and pleasant. Nadara is a jungle girl, who falls in love with Waldo, a clumsy adventurer! By Martin Powell and Dana Leto.
- Tarzan of the Apes is, as its title indicates, a faithful adaptation of the first novel Edgar Rice Burroughs wrote about the ape man. For once, enough space is devoted to Tarzan's parents, too often neglected by other adaptations! By Roy Thomas and Pablo Marcos.
- The Land that Time Forgot, novel which had been adapted as a movie already. A german submarine gets itself into a preserved prehistorical environement. By Martin Powell and Pablo Marcos.
- The Mucker, by Ron Marz and Lee Moder. The Mucker was a try by Burroughs at a more dark and "realistic" crime fiction than his other novels.
- And finally, on a for now sad note, I learned just today that a John Carter strip proposal existed, which would have reunited Martin Powell, Pablo Marcos and Dana Leto to narrate new adventures of the Warlord of Mars. Unfortunately, the rights are currently blocked by Marvel, even if Stan Lee's former company does nothing with them. Too bad, but it will perhaps exist later, in due time.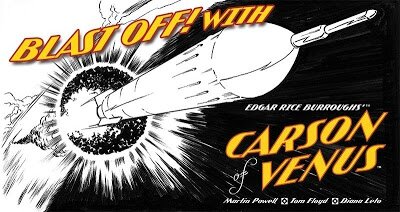 Picture copyrighted by ERB inc